In The News
What you need to know about the Fire Officer Academy: The Company Officer
January 5, 2022
The Fire Officer Academy: The Company Officer, brainchild of the Association's Officers Section, is an initiative designed to further develop leaders in the fire service and utilizes a blended learning environment so that students have both the knowledge and hands-on experiences necessary to succeed as a company officer with their department.
It's the first training program of its kind from the Association.
"When the Officers Section was formed, we spoke to the members of the section and identified a need across the state for officer development," said Officers Section chair Andrew Morris. "The partnership with State Fire, The Instructor's Society and South Carolina State Firefighters' Association gave us the chance to build a much stronger program than we could have managed individually and now we are able to offer the best opportunity for officer development in the state through the Fire Officer Academy: The Company Officer."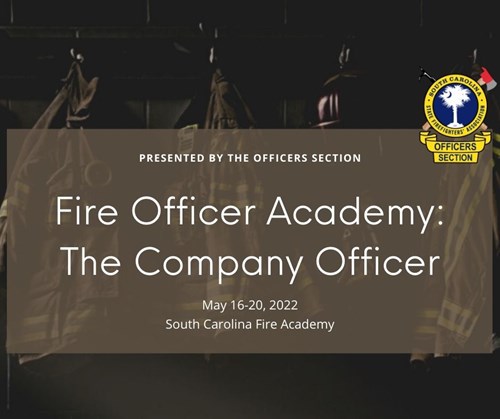 The week-long Company Officer will be held at the South Carolina Fire Academy where students will stay on campus in a platoon style environment. 
"Great officers are those that show the way and inspire," said Morris. "In the Fire Officer Academy: The Company Officer you will learn how to build your team, from the tactile skills like physical fitness and tactical proficiency, to the skills that drive the culture of a department, the people and how to deal with conflicts, stress, time management and personalities."
"If you are an officer in your department or have a desire to lead firefighters, this class is what you are looking for."
Note that an application is required, including a resume and letter from the applicant's Chief. Applicants do not need to be a member of the South Carolina State Firefighters' Association Officers Section but membership with the Officers Section is preferred. Those who successfully complete the course will receive a certificate from the South Carolina Fire Academy.
Applications will be vetted prior to being accepted into the program and will be sent pre-course assignments to be completed prior to final selection. Completion of the pre-course work, anticipated 18-20 hours, is mandatory to be selected for the Company Officer.
Participants must be Fire Officer I certified prior to applying. The program is limited to 25 people and the deadline to apply is close of business on Monday, January 31, 2022.