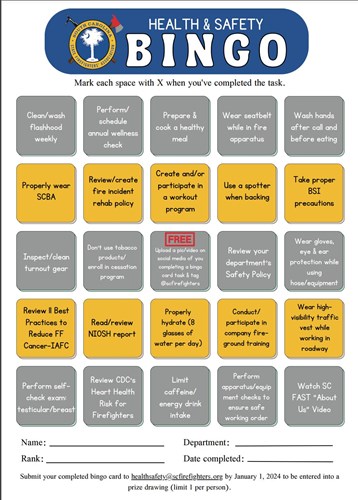 Health and Safety Bingo
Your favorite family-friend game night activity just got an upgrade. Play along with the Health and Safety Committee's bingo to be entered to win a prize giveaway!
The themed bingo card includes activities that address cancer prevention and proper decon, heart health, diet and exercise, fireground safety, and personal safety. The interactive activity allows for independent and group learning that promotes the importance of having a vested interest in your long-term health.
"Our health and safety as firefighters is a crucial part in serving our communities and our families," said Horry County Capt. Brad Kavetski, chair of the Health and Safety Committee. "Often seen as an afterthought, taking proactive steps to maintain a healthy lifestyle both on and off duty as well as executing safe practices on the emergency scene ensure a long injury-free career and a prosperous retirement."
Playing is easy. Print the bingo card, complete the activities and mark with an "X" when it is complete, fill out the contact information on the card, and send a copy of the completed card to [email protected]. Completed bingo cards can be emailed as a PDF or picture.
Please note that these instructions deviate from the traditional rules of bingo; the entire card must be filled out for Health and Safety bingo, not just one row or column.
Complete, submitted bingo cards will be entered to win a prize giveaway. Entries are limited to one per person.
The Health and Safety Committee has a list of readily available resources to help you complete your bingo card.
Bingo cards should be submitted no later than January 1, 2024, and the giveaway winner will be announced during Fire Service Improvement Conference, January 18-21, 2024.
Play a second round of Health and Safety Bingo in the new year from February 1-June 1 with the winner being announced at Fire-Rescue.