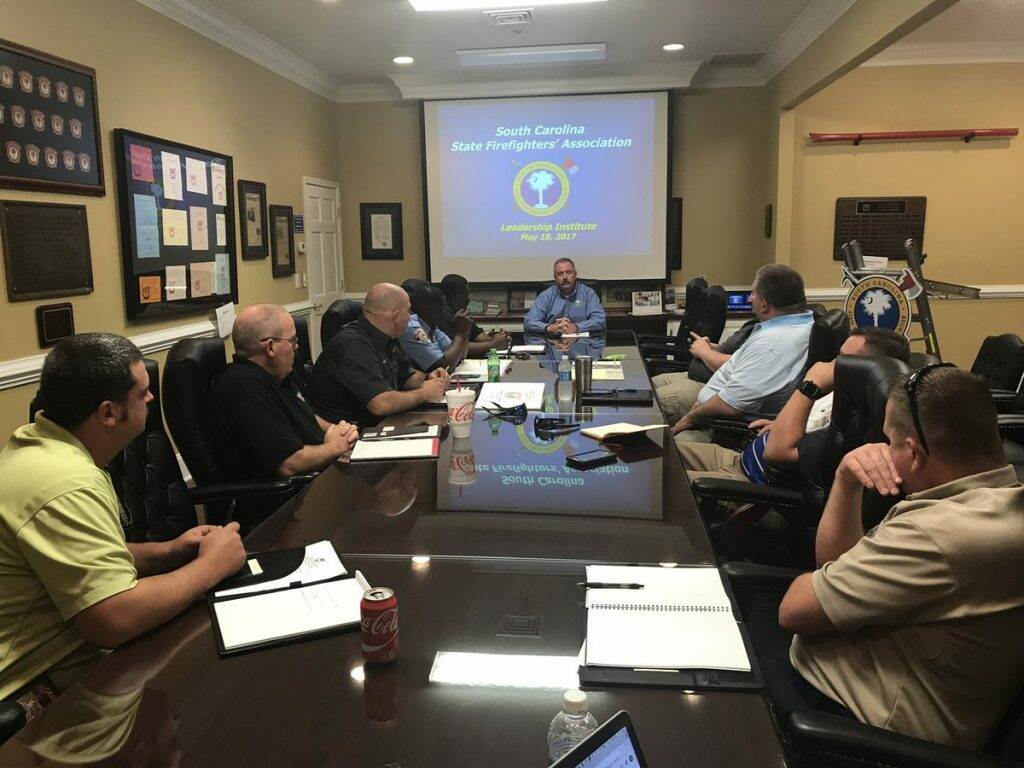 Advancing Firefighter Leadership
The South Carolina State Firefighters' Association's Leadership Institute is a 12 month leadership development and educational program set in an executive-level environment with an emphasis on open communication and project-based skills.
The Association's Leadership Institute is offered to individuals to improve and develop fire service leadership at the state level through networking and education pertaining to the many facets of the fire service profession.
Who is Leadership Institute for?
The ideal Leadership Institute participant is a person who has a strong desire for honing their individual leadership knowledge, skills, and abilities beyond typical management skill training and has exhibited prior leadership skills in local or state efforts. Participants will not be judged on the criteria of rank or pay status but instead on their potential to impact future leadership for the Firefighters' Association and South Carolina fire service.
Expectations of participants
Participants in this program should have prior experience or knowledge of their department administration and operations, experience with presentations to councils or commissions, an ability to schedule work to allow participation in all Leadership Institute functions and meetings, a desire to advance their personal skills into an executive leadership realm, and the willingness to speak in front of groups and peers.
You will be expected to discuss openly matters of leadership and development.
You will be expected to formulate change driven proposals and principles.
You will be expected to free think and assist in solving complex fire service problems
You will be expected to independently and in a group environment, research topics pertinent to class efforts.
You will be expected to show the ability to influence group and peer thought processes in the articulation of ideas and concepts.
Time commitment
Participants should understand that all Leadership Institute meetings are mandatory and chief and/or department approval acknowledging this commitment is required. Participants should anticipate attending 8 daytime meetings, two 1-week trips, and two weekend outings. As stated previously, chief/department approval of the expected time commitment is required.
View and download a sample Leadership Institute schedule. Please note that this is a sample schedule and that monthly topics and/or events are subject to change.
In addition to the anticipated scheduled meetings referenced above, participants should be aware that numerous projects within the 12-month cycle will require independent reading, research, and development on numerous course topics outside of class. It should be noted that the time commitment for Leadership Institute extends beyond "face to face" meetings as the projects tasked throughout the 12-months are dependent on the time invested by the participant.
Application process
Applicants will undergo a written application for review and a live face-to-face interview as part of the evaluation process. Applicants will also be required to complete prerequisite items using an on-line learning management system prior to being allowed in the program.
How to Apply
The deadline for submittal is August 31 at 5:00 PM.
Applications are evaluated by the Advisory Committee and submitted to the Executive Committee for final approval by the first of October. Each applicant must submit the following items through the online application:
A professional resume
A letter of recommendation from the Chief of the applicant's Fire Department or a Past President or current Executive Committee member of the Firefighters' Association
A letter of recommendation from an individual outside the fire service attesting to the applicant's leadership skills and/or involvement in their community
An essay that answers the following three questions

Describe your most substantial professional achievement, from within or without the fire service, and why you view it as such.
What goals do you expect to realize by participating in the Leadership Institute and how might achieving those goals enhance your ability to contribute to the South Carolina Fire Service?
How do you expect your background, experience, and capabilities will contribute to the Institute and your fellow participants?