Health
Firefighter cancer and prevention message from the Health & Safety Committee
January 3, 2022
January has been designated as Firefighter Cancer Awareness Month by the International Association of Firefighters. A NIOSH study identified that firefighters have a 9% greater chance of being diagnosed with cancer and a 14% greater chance of dying from cancer than the general U.S. population. The study determined substances can be inhaled or absorbed through the skin through numerous routes. This can include but is not limited to operating at the scene of a fire, exposure to contaminants on gear and in the cab of the truck and in the firehouse, where idling fire trucks produce diesel exhaust.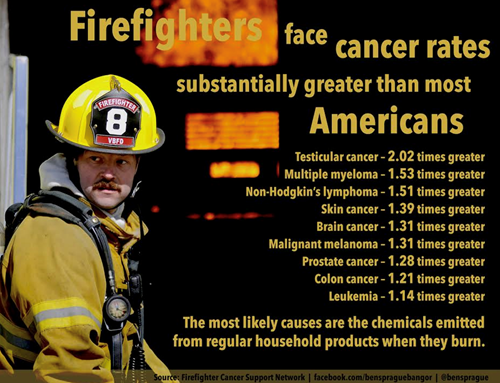 To protect yourself from exposures, the following actions are recommended:
Use SCBA from initial attack through overhaul.(Not wearing SCBA in both active and
postfire environments is the most dangerous voluntary activity in the fire service today).
Perform on-scene gross decontamination on PPE to remove as much soot and particulates as possible. Wet decontamination is the most effective.
Use wet wipes to remove as much soot as possible from head, neck, jaw, throat, underarms, hands and all exposed areas of skin immediately and while on the scene.
Bag contaminated gear on scene and store them in an outside compartment. Never in the cab.
Change your clothes and wash them immediately after a fire. If possible, have a change of clothing in a personal bag.
Shower thoroughly after a fire.
Clean PPE, gloves, hood and helmet (including helmet liner) immediately after a fire. Swap out your hood if you are able to.
Decontaminate the interior of apparatus after fires regularly.
Keep bunker gear out of living and sleeping quarters.
Use a diesel exhaust capture system in the station.
The importance of annual medical examinations cannot be overstated – early detection and early treatment are essential to increasing survival and improving outcomes.
For more information on your Associations' efforts in cancer education and prevention as well as the Firefighter Health Care Benefit Plan (S.1071) that was signed into law on September 28, 2020 visit the Health & Safety webpage.