Health
Personal Health: Mental Health
July 26, 2021
It's no secret that firefighters and first responders will bear witness to pain and suffering more than the average person which may cause a shift in mental health, from burnout or anxiety to post-traumatic stress.  Mental health workshops, peer support, and other services are now a part of the current firehouse culture, allowing firefighters to learn how to process and work through the tragedies and everyday stresses of the job.
Beyond national programs such as the Share the Load Campaign from the National Volunteer Fire Council, first responders here in South Carolina have access to such organizations as the SC Fast Team, Low Country Firefighter Support Team. Each organization provides a variety of trainings and support custom to the needs of first responders.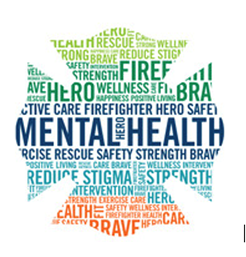 Have you started to isolate yourself from others in the firehouse? At Home?
Have you found yourself turning to alcohol or other addictive behaviors to make yourself feel better?
Have you or someone close to you noticed that your sleeping patterns have changed?
Have you been told that "you have changed" by: Friends? Family? Fellow coworkers?
Are you displaying unexplained angry emotions or have you been disciplined recently for anger towards other firefighters/EMTs? Officers?
Are you feeling like a burden to your family, friends, or Fire Company or EMS organization?
These questions are just a few from the Firefighter Behavioral Health Alliance (FBHA) self screening. Beyond answering yes to any of these questions, reaching out for help is okay. Whether you connect with your local Fire Chaplain, Family Counselor, or someone available through an organization mentioned above, support is just a click away.
Note: If you need immediate support, the National Suicide Prevention Lifeline is available at 1-800-273-8255 (or go to the web site for chat), the National Helpline is available at 1-800-662-HELP (4357), and the Crisis Text Line is available by texting HOME to 741741.