In The News
Light up the night with National Fallen Firefighters Foundation
August 3, 2021
The National Fallen Firefighters Foundation invites you to honor those firefighters who died in the line of duty in 2020 by participating in Light the Night for Fallen Firefighters. 
A candlelight service will be held on Saturday, October 2 for the families. Like in years past, the NFFF is asking landmarks, buildings, communities, and fire departments across the country participate in Light the Night.
You are encouraged to join this extraordinary display of recognition and to be a beacon of hope to fire hero families and firefighters nationwide by joining NFFF for Light the Night for Fallen Firefighters. Lighting your Fallen Firefighter Memorial in red on the evening of October 2, or any time during that week, would be an additional symbol of support and comfort to the families whose loved ones are being remembered.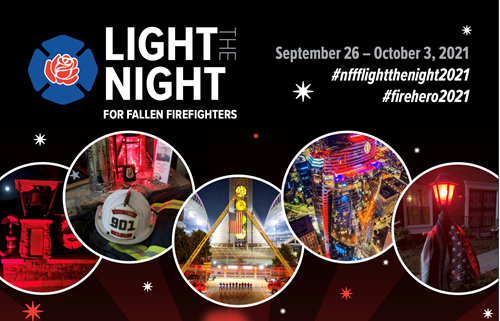 This nationwide lighting event honors those firefighters who died in the line of duty and lets the families know that we will always remember. Last year, some iconic buildings and bridges – including One World Trade Center in New York City, the Willis Tower in Chicago, and Walt Disney Studios in Burbank – as well as hundreds of fire departments and communities participated in honoring our fallen.
Fallen fire service heroes are honored every October at the National Fallen Firefighters Memorial located on the National Fire Academy campus in Emmitsburg, Maryland. The National Fallen Firefighters Memorial Weekend is the official national tribute to those firefighters who died in the line of duty during the previous year.
If you have any questions or would like more information about the National Fallen Firefighters Foundation, please visit www.firehero.org.
Contact Donna Clark at [email protected] to let us know of your participation and thank you for your consideration in honoring our fallen firefighters.