History
Black History Month & the contributions of the Black community to the fire service
February 1, 2022
The South Carolina fire service is where it is today due in large part to the contributions of Black firefighters over the years. February is Black History Month and the South Carolina State Firefighters' Association is proud to share some of the history of the Black community in the fire service.
Carter Jones, historian and Special Projects Coordinator at the Association, wrote in his book, A Legacy That Lives On, "… I have done a lot of reading about the history of South Carolina's fire service, and I have tried to capture its relevance by putting to pen those stories from our past… I realized that very few documents are available or even draw attention to the tremendous contributions of those Black firefighters who helped mold our state's fire service into what we enjoy today."
Excerpts of Jones' research is below and lightly edited for brevity. You can find the entire research in Chapter 6 of A Legacy That Lives On. 
___________________________________________________________________________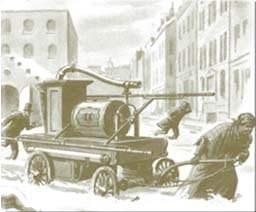 My interest [in the contributions of Black firefighters] was further deepened to know who may have been the first recorded female Black firefighter and discovered the answer in the phenomenal book entitled Firefighters by The Fallen Firefighters' Foundation (1993). A chapter written by former Toledo (Ohio) Fire Chief (and former Ohio State Fire Marshal and Toledo Mayor), Michael P. Bell explores many of the contributions of our Black brothers (and sisters). In his research, Chief Bell references a slave woman by the name of Molly Williams who gained some legendary distinction and popularity as a volunteer fireman in New York during the late 1700s. Chief Bell writes that Molly Williams was owned (bound) by a white New York fireman who served with the Oceanus Company No. 11. Williams became famous during the blizzard of 1818 when she helped pull an engine with "drag ropes" a very long distance in the blinding snowstorm to fight a fire in the City. A drawing of Molly Williams depicts her pulling a hand pumper in drifting snow while wearing a calico dress and checked apron.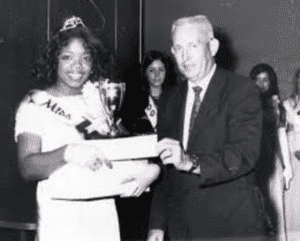 Another little-known fact is that Oprah Winfrey, the Emmy Award-Winning television talk show personality, first captured public attention in 1971 when she won the Nashville Fire Department's "Miss Fire Prevention" title. She later went on to win the "Miss Tennessee" title and stepped in her initial job in broadcasting with Channel 5, WLAC, in Nashville.
So, just who were, and are, some of the many "trail blazers" who are deemed "history makers" drawn from the Black community who have contributed to our state's fire service? Research reveals there are many. The late Mr. James Wilson, Superintendent of Public Works (62 years) in Manning and volunteer fireman from the very early days of the 20th century, taught me more about hydraulics than any Oklahoma Red Book or IFSTA Training Manual. I recall his admonition on several occasions about wasting water and the importance of proper placement of hose streams. I can remember as a very young firefighter Mr. Wilson's fascinating stories about his days as a youth helping the fire department locate cisterns installed around the town before our water system was expanded in the early 1920s. Day and night, when the alarm of fire was sounded, Mr. Wilson would rush to the water works station to set a fire in the giant boiler to build steam to run the pump, making sure the water tank was full of water then rush to the fire scene to help the firemen.
Then there was a pioneering team in Columbia comprised of the late Assistant Fire Chief Claude Stewart and the late Deputy Chief Louis Williams. According to retired Columbia Chief John Jansen, "Chiefs Williams and Stewart were hired in 1953 and rose through the ranks and served until 1990 and 1991 respectively." I remember both men very fondly…friendly, great conversationalists, soft spoken yet firm. In the 100th Anniversary book, Columbia Fire & Rescue Service 1804-2004, Chief Jansen and John Reich tell us that although the volunteer ranks included Black firefighters between 1800 and 1903, "as far as we know, the city hired only six Black drivers for the steamer horse teams." The Columbia Fire Department became a paid department in 1903 and kept the Black drivers on the rolls to handle and maintain the horses until 1916 when the fire department replaced their horse-drawn machines to motorized apparatus.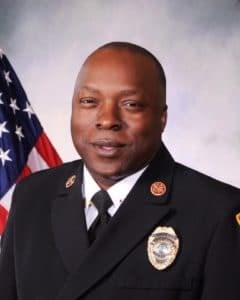 Our history would not be complete without mentioning the promotion of Aubrey Jenkins to Columbia's topposition as Chief of Department in 2011. Chief Jenkins worked his way up through the ranks and was chosen to this position after competing with a long list of applicants. The Columbia Fire Department has 570 career personnel, 130 volunteers, and operates out of 32 stations. Chief Jenkins has received many awards and takes great pride in helping to lead his department to an ISO Class 1 rating.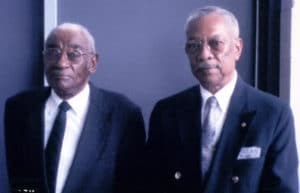 In the City of Charleston, there was another "trail blazer" by the name of Robert H. Mears. According to Assistant Fire Chief Raymond Lloyd (a sixth-generation firefighter and historian himself), "Robert Mears entered the Charleston Fire Department around 1900 and was assigned to the Truck House on John Street. He worked his way up the ranks and was promoted to Captain. He was the first Black Captain" to attain this rank and "retired in 1949 after 49 years and 9 months of service. He died on March 17, 1952, at the age of 78, and is buried in the Unity and Friendship Society Cemetery" in Charleston.
Over in rural Williamsburg County, Chief Randy Swinton merits the designation of a pioneering leader in our fire service. Chief Swinton joined the Williamsburg Fire Department in 1991 as a volunteer and was promoted to Assistant Chief/Fire Marshal in 2003. He served in that position until 2009 when he became their Chief. The department protects an area of 818 sq. miles and operates out of 23 stations with 110 volunteer and career personnel of whom nearly 44% are Black. In addition, the Chief serves on the state's review panel supervising the helpful V-SAFE program for volunteer and combination departments. Chief Swinton summed up his philosophy about his leadership approach to running a large organization by saying, "I believe in putting God first. And, there are no colors in the fire service but one…and that's red."
We continue to observe more Black firefighters making their mark in our fire service. Whether Black, Asian, Hispanic, white, male or female, the fire service is changing for the better. To be sure there are obstacles yet to be addressed, but we've come a long way. The bias, discrimination and prejudice our pioneering brothers faced in years gone by are now being supplanted by acceptance and regard for the greater good.
I like what FDNY's late Chaplain Father Mychal Judge said at a dedication of a firehouse the day before the World Trade Center attacks where he became the first fire department fatality on that fateful day. The Franciscan priest recited the prayer of St. Francis of Assisi… "Where there is hatred, let me sow love. Where there is darkness, light, and where there is sadness, joy."
The opportunity afforded this writer to plunge into the subject of the Black community's contributions to South Carolina's fire service has truly been a rewarding and an eye-opening experience. This research only breaks the surface of a fascinating focus about which a great deal more must be explored to fully appreciate. I am forever grateful to those who helped and encouraged me with this research for I now have a much more profound admiration for those pioneers in the Black community, past and present, who are the real heroes of this article.