In The News
SC FAST to host clinicians academy
September 13, 2022
The South Carolina State Firefighters' Association's First Responder Support and Assistance Team (SC FAST) this weekend is hosting its first-ever clinicians training September 16-18 in Walterboro at Colleton County Fire-Rescue. A Mile in Our Boots Clinicians Academy is the first program of its kind and aims to assist clinicians in recognizing stressors of first responders in both their personal lives and during emergency responses.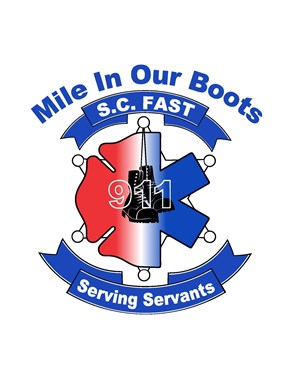 "Since our inception in 2011, we have been working to understand, improve and break stigmas around first responder mental health. The team that 'serves servants' continues to grow, learn and change the emergency services culture to produce and retain healthier, more resilient first responders," stated SC FAST Director Patti Graham. "A Mile in Our Boots Clinician Academy is one more way we are changing the culture by developing the relationships between first responders and mental health clinicians."
The goal of this academy is for the clinicians to acquire an enhanced understanding of mental and physical stresses that face our first responders through participating in interactive sessions with first responders themselves, develop awareness of challenges outside the job (such as family that can directly impact the responder) and utilize the knowledge gained to help enhance future sessions with first responder clients through new perspectives gained from the academy. 
The weekend will be full of interactive education – including wearing gear, hearing mayday tones, and more of the sensory aspects of public safety – that will allow our clinicians a realistic glimpse into the world of a first responder. Clinicians will be grouped into "squads" to participate in different activities that offer unique experiences through experiential learning. The clinicians will be challenged while creating new memories and experiences that will be able to be utilized in their practice to best serve public servants.
"With over ten years of providing support and training to South Carolina's First Responders, SC FAST performs a critical role in the area of behavioral health for our heroes," said Association President Josh Holzheimer. "By providing our clinicians the unique opportunity to experience the sensory aspects of our first responders, they will be better prepared to serve those who serve."
The South Carolina First Responder Assistance and Support Team was established to provide the state's first responders with training to assist in recognizing stressors in both their personal lives and during emergency responses. The team's mission statement is to serve those who serve others by providing compassion, making connections and inspiring courage while changing the culture. As a result of the Association's advocacy efforts, SC FAST is receiving reoccurring state funding for the first time since its inception.