In The News
Q&A with SCFAST Director Patti Graham
July 25, 2022
Patti Graham is the Director of the South Carolina First Responders Assistance and Support and Team (SCFAST) and Retention Coordinator at the South Carolina State Firefighters' Association. In addition to her duties at the Association, Patti also volunteers at Boiling Springs Fire Department where her husband, Steve Graham, is chief. Patti took the time to answer a few frequently asked questions about SCFAST.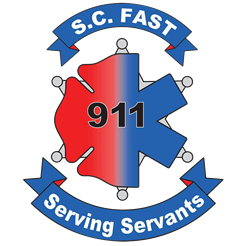 Q: What is SCFAST and who does it serve?
SCFAST is the South Carolina First Responder Assistance and Support Team and we support all first responders in the state.
Q: What is the process like if a first responder contacts SCFAST for help?
They can either call the toll-free number (9-SCFAST), fill out contact form on SCFAST.org, or talk with a Peer Team Member.
Q: How do you follow up?
Generally, we follow up in whichever way the responder prefers. We can call, text, or even email.
Q: Why are programs like SCFAST critical to the Association's mission? 
By serving and being a supporter of our members and their departments, we are helping individuals, families, and departments to be healthier which can in turn helps with retention efforts.
Q: How can people get involved?
They can find out about trainings offered, request a training at their department/agency, and/or become a team member on the SCFAST website.
Q: What are you doing to make sure clinicians in the state are prepared to serve first responders?
We connect those clinicians without prior first responder/military knowledge with the Center for Firefighter Behavioral Health, an online training program that gives a better understanding of the culture. This fall we are hosting our first 3-day clinicians training, Mile In Our Boots, designed to give clinicians a hands-on learning experience about our jobs, including fire, EMS, LEO and 911 telecommunicators.