In The News
Leadership Institute applications open
June 23, 2022
The South Carolina State Firefighters' Association is accepting applications for the 2023-2024 Leadership Institute class.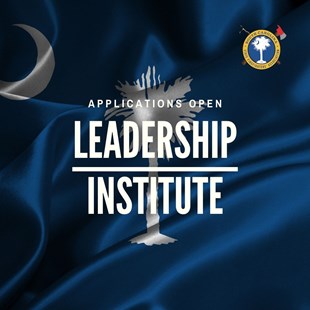 The year-long leadership development and educational program is set in an executive-level environment with an emphasis on open communication and group project-based skills. Leadership Institute is offered to individuals to improve and develop fire service leadership at the state level through networking and education pertaining to the many facets of the fire service profession.
"Leadership Institute provides those up-and-coming stars… the opportunity to go out and experience every aspect of the SC fire service," said Leadership Institute alumni, former Association Executive Director, and current Anderson City Fire Chief Charlie King. "We're looking for individuals who have the potential to make an impact on the fire service in their communities, not so much on the folks who have a wall full of ribbons and plaques."
Participants are expected to receive a working knowledge of the numerous and varied aspects and intricacies of the South Carolina fire service outside of their previous background and experience through exposure to current events and a variety of department experiences from around the state.
Greenville City Deputy Chief David Hindman is a 2014 graduate of the Leadership Institute and says the program exposed him to how the Association supports its members, regardless of department size or resources available.
"Leadership Institute gave us the opportunity to see the Association and the fire service in South Carolina is trying to work together for a common goal," Hindman said. "You realize very quickly how fortunate some areas of the state are with what they have as opposed to other areas of the state and you recognize that the Association is trying to overcome those gaps and provide resources for everybody in the state and opportunities for everybody in the state."