In The News
Kim Bowman hired as One Percent Retirement Coordinator
November 7, 2023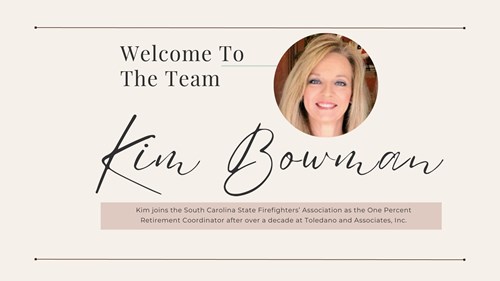 Kim Bowman is joining the Association staff as the One Percent Retirement Coordinator in the new year. Kim is a familiar face to many retirement plan participants – she comes to us after over a decade at Toledano and Associates Inc. where she assisted with managing the One Percent Retirement accounts. She brings with her years of familiarity with 1% funds and, most importantly, you—our membership.
Kim joining the Association staff will help ease the transition of the plan's Third-Party Administrator. It was announced in May that the Retirement Board of Trustees voted unanimously to transition from Toledano and Associates Inc. and to contract with Milliman based on cost savings compared with services provided. In addition to the technology upgrades offered by Milliman, Kim's continued presence means you will get the same familiar, friendly, and knowledgeable customer service you expect and deserve.
"The Association could not be more fortunate in being able to retain a corner stone of our customer service success as we bring Kim Bowman into the realm of Association staff," Executive Director Joe Palmer commented.
President Malcolm Burns echoed Executive Director Palmer's sentiments.
"We are confident that with Kim's knowledge and experience she can help guide us through this process as we transition from Toledano and Associates to our new Third-Part Administrator, Milliman, and continue to be the main Point of Contact for all One Percent Retirement Fund-related questions," Burns said.
Kim is a native South Carolinian, born in Easley and in raised in Liberty. She's lived up and down the East coast but found herself back in Pickens County. Her professional background in accounting and banking made her the perfect fit at Toledano and Associates where she's worked for over a decade. She knows first-hand the importance of the Association and the One Percent Retirement Plans – her son-in-law is a South Carolina firefighter.
"The most enjoyable aspect of my time at Toledano and Associates has been the interaction with the firefighters of South Carolina," Kim said. "What an honor it has been to serve them, and it has allowed me to show my appreciation to them for their service."
The Association is confident that Kim's presence will allow for a seamless transition from Toledano and Associates to Milliman, and we are excited to have her on staff.
"I am excited to continue to work with the firefighters and assisting them navigating through the One Percent Fund as they transition to the new format and online process," Kim commented. "I have made a lot of new friends since I began this journey and cannot wait to make many more as the journey continues."