In The News
Fire-Rescue 2023 t-shirts are available for pre-order
March 2, 2023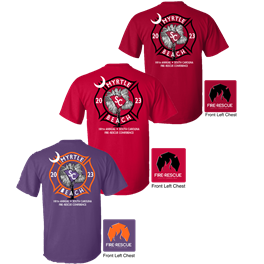 When you're from South Carolina, college football is in your blood. Weddings and big life events are planned around bye weeks and the off-season, and there's no doubt what game you're watching the last Saturday in November.
It's just different here.
The passion for our teams and the camaraderie of team sports inspired the t-shirts for Fire-Rescue 2023. There's a lot to be said about the similarities in the fire service and football—the physical fitness, the game plans, the trust in your brother, the commitment to getting better every day. We hope you proudly support Fire-Rescue and your favorite team.
T-shirts (S-4XL) are available for pre-order at $20/piece. 
See you in June at the beach for Fire-Rescue.