In The News
Clinicians academy a success: "We really did walk a mile in their boots"
October 17, 2022
The South Carolina First Responders Assistance and Support Team (SC FAST) held its first-ever clinicians academy, A Mile in Our Boots, at Colleton County Fire-Rescue the weekend of September 15-18, 2022.
The goal of the program was for the clinicians to acquire an enhanced understanding of mental and physical stresses that our first responders face through participating in interactive sessions with first responders themselves, develop awareness of challenges outside the job, and utilize the knowledge gained to help enhance future sessions with first responder clients through new perspectives gained from the academy. 
The participating clinicians either have a history of working with first responders or hope to work with first responders in the future. Every participant had one thing in common: a heart for emergency services.
"The experience was inspiring and a reminder of the sacrifices first responders endure while trying to take care of their communities," said Jennifer Miller, clinician at Counseling Plus in Lexington and graduate of the first Mile in Our Boots.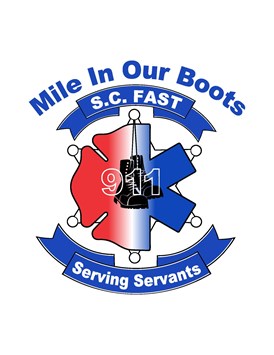 "The shift life and dealing with the unknown on a daily basis can affect daily functioning and I felt reminded of that, even as a combat veteran, after that first day of training due to the adrenaline and hyper arousal it was hard to settle down and take care of daily functioning needs, reminding me of the trust that I want first responders to have when they come in to my office and allow me to help them through a difficult time," she continued.
The 'hyper arousal' described by Jennifer was an intentional aspect of the academy, integrated into each phase of the program to expose clinicians to the overwhelming sensory aspects of the job that don't stop when you leave a scene. Clinicians participated in five tracks: fire, law enforcement, 911 telecommunications, chaplaincy, and EMS.
Clinician and Mile in Our Boots participant Ashton Sullivan, Art Therapist and Counselor at Emerge Counseling and Art Therapy in Beaufort, echoed Jennifer's sentiments about the hands-on learning experience.
"The academy gave me a different kind of 'knowing,' something much more real and powerful than hearing stories from clients or learning concepts out of a book," Ashton said. "I hope it will help first responders to give us a chance seeing that we are just humans too and care so much for them. We really did walk a mile in their boots."
SC FAST is hosting the second Mile in Our Boots program at Colleton County Fire-Rescue the weekend of September 21-24, 2023.