Ben Crenshaw presented with David Lee Crenshaw "Big Dummy" Leadership Award
August 9, 2022
No one knew what to expect the week of the inaugural Officer Academy: The Company Officer. Officers Section leadership and Association staff spent countless hours preparing to transform a grandeur vision into an achievable reality. But with this being the first Association program of its kind, there was nervous energy around what the selected group of company officers from around the state would take away from the experience.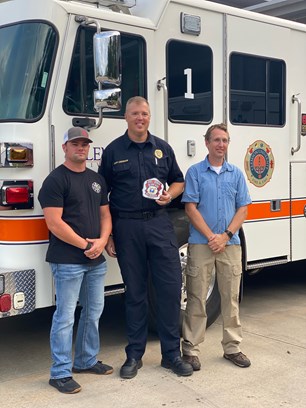 It became evident early in the week that this program was special, at least to the students; Long Cane VFD Asst. Chief Blake Schultz recalls that the class decided "early on that there should be a type of leadership award."
Each student brought something unique to the program, but Clemson University Fire & EMS Captain Ben Crenshaw took on an extra special role during the week.
"He was like a father figure," Schultz said of Crenshaw. "He helped in anyway that he could but never took any shortcuts to get out of any work. He is a great leader, mentor, and a friend to all of the folks in our class."
The Crenshaws, native to the Upstate, are no strangers to the South Carolina fire service. Ben's dad, David Lee Crenshaw, affectionally known as "Big Dummy," served the greater Anderson community as a firefighter and law enforcement officer for most of his career. On January 9, 2012, David died serving the citizens he loved when he collapsed on the scene of a motor-vehicle collision. He was 63.
"On the last day's PT session, I shared my father's story with the class," said Crenshaw. "It was quite emotional for me as I had never shared his story to a group of people in a presentation format. I feel as though it was emotional and spiritual for every one of my classmates."
The 22-01 class of the Officer Academy: The Company Officer created the David Lee Crenshaw "Big Dummy" Leadership Award, to be presented to a student of the South Carolina State Firefighters' Association Fire Officer Academy who is selected by their peers within the class for displaying exemplary skill, attitude, and leadership throughout the class.
Ben Crenshaw was awarded the David Lee Crenshaw "Big Dummy" Leadership Award at a small ceremony in Clemson on August 1, 2022.
"I cannot express what an honor it was to receive this award," said Crenshaw. "This award will mean more to me than anyone else who will receive it for the simple fact that my classmates of FOA 22-01 elected to name it after my father. Thank you, South Carolina State Firefighters' Association and Fire Officer Academy Class 22-01, for the honor of being the inaugural recipient of this award. I am truly humbled and honored."