An update from President Caggiano
July 13, 2021
Jamie Caggiano began his career in the fire service at just 18 years old. A few decades and a lot of experience later, Gaffney Fire Chief Caggiano was inducted as the South Carolina State Firefighters' Association President at the 2021 Fire-Rescue conference, June 6-13, in Columbia.
Excited for the year ahead, his goals for the Association and its committees are ambitious and sure to improve the Association's operations for its members. With an overall goal of engaging the membership, President Caggiano has provided each committee with its own objectives that contribute to the collective mission. Note that recently elected Fourth VP Randy Arant will rotate committees throughout the year and will act as an ex-officio member of these committees.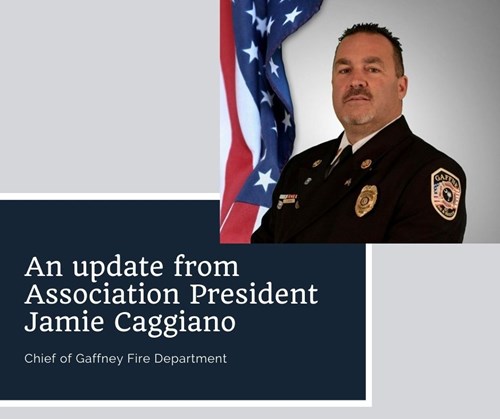 Finance and Audit Committee, chaired by First VP Josh Holzheimer
Supervise the annual audit
Engage the committee and write policies for the committee
Assist with budget preparation
Establish a plan for future growth and sustainability
Legislative Committee, chaired by Second VP Malcolm Burns
Assist with Legislative Day
Ensure the legislative agents are equipped with information
Ensure membership is educated on legislative agenda
Develop strategic action items for future planning
Advisory Committee, chaired by Third VP Jamie Helms
Determine how to engage the membership to have more award applications
Oversee the selection process for Leadership Institute
Consider opening award submission year round
Develop plan for award presentation process/videos
Work with State Fire and other associations to create a "master" calendar of statewide events
Member Benefits, chaired by Ross Vezin
Continue providing the discounts for the members
Work with Fire Academy in publicizing the cancer policy
Develop a marketing plan to ensure members are aware of benefits
Continue consideration of potential death benefit changes
Work with staff to gain more involvement in Memorial Service from families and move to Fire Service Improvement conference
Training and Education, chaired by Terry Sheriff
Provide training for all groups of our membership
Work to make changes for the Fire Service Improvement Conference
Hands on training
Vendor participation
Provide a list of dynamic speakers for the president to choose to use at for Quarterly Training, Fire Service Improvement Conference, and Fire-Rescue
Supervisory, chaired by John Bowers
Continue the training classes and educating our department and members on 1%
Continue to develop guidance for departments that meets current laws, polices, and accounting practices
Develop a plan to reach a goal of auditing each member department every 10 years (tiered system)
Health and Safety, chaired by Tracy Williams
Continue to educate the membership on cancer prevention
Continue the small videos
Strategic Planning, chaired by John Jones
Keep strategic plan updated
Plan for brain storming session during 2022 spring workshop
Assist Executive Director with a plan for a new office
By-Laws Committee, chaired by Jason Pope
Explore how to give sections more of voice
Discuss possibly only elected officers have a vote
Clean up how departments apply for membership and to who
EMS Committee, chaired by Ryan Eubanks
Continue working on EMS Regulations
Work to get Fire Academy to do more EMT and Paramedic training
Build relationship with EMS Association with the goal of working together more (training, conferences)
Diversity Committee, chaired by Mickey Folsom
Work on programs that can assist the Executive Committee to be more inclusive
Work with Training & Education to bring in more diversity training
Foundation, chaired by Tres Atkinson
Look at feasibility of hiring a fundraiser (company or individual)
Look into having a trustee board and director's board
Involve more community stakeholders
Ensure members are aware of the foundation, how to support and how to access when needed
Grow the annual golf tournament
Insurance Board, chaired by Rick Cramer
Meet goals set that are drafted by the insurance board
Explore expanding our footprint to other states
NVFC, represented by Brian Moon and Jack Kirlin
Bring more programs home from NVFC
Podcast, FireWires, social media campaigns, etc.
Help Executive Committee provide more programs for volunteers
Help Executive Committee work to recruit volunteers
Provide monthly reports to the Executive Committee
Conference Committee, chair to be named by collective membership
Work with staff, President, Executive Director, and members to ensure a good transition to Myrtle Beach for Fire-Rescue 2022
Handle all aspects of Fire Rescue except training portion
Reach Chief Caggiano at 864-487-8517 or [email protected].